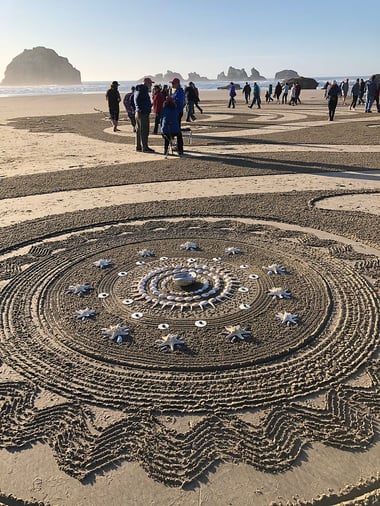 Circles in the Sand has released their 2022 dates. The summer season will begin May 2nd and run through August 15th!
To view and walk these amazing labyrinths, head to Face Rock Viewpoint in Bandon, Oregon. Scheduled times are when the walk will start. The drawing begins about 2 hours before. It should take about 20 minutes to walk the path and dogs are allowed on a leash.
There are several campgrounds nearby if you want to make a trip of it. The whole family will enjoy this beautiful, interactive work of art on one of the most scenic beaches in Oregon.
The intention of Circles in the Sand is to share love, joy and kindness. Team Circles creates sand labyrinths surrounded by intricate designs and artwork. They invite everyone to enjoy a walk on the sand path. Donations help them continue to provide this wonderful experience. You can donate on their webpage.
2022 Dates
May
Monday, May 2nd at 9AM
Tuesday, May 3rd at 9AM
Wednesday, May 18th at 9AM
Thursday, May 19th at 9AM
Friday, May 20th at 10AM
Saturday, May 21st at 11AM
Sunday, May 22nd at 12PM
Tuesday, May 31st at 8AM
June
Wednesday, June 1st at 8AM
Thursday June 2nd at 9AM
Thursday, June 16th at 9AM
Friday, June 17th at 9AM
Saturday, June 18th at 10AM
Sunday, June 19th at 11AM
Thursday, June 30th at 8AM
July
Friday July 1st at 8AM
Saturday, July 2nd at 9AM
Sunday, July 3rd at 10AM
Friday, July 15th at 8AM
Saturday, July 16th at 9AM
Sunday, July 17th at 10AM
Monday, July 18th at 10AM
Friday, July 29th at 8AM
Saturday, July 30th at 8AM
Sunday, July 31st at 9AM
August
Saturday August 13th at 8:30AM
Sunday, August 14th at 9AM
Monday, August 15th at 9AM