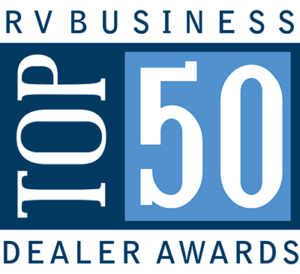 The 2019 roster of RVBusiness Top 50 Dealer Award recipients has been released by RVBusiness, the Elkhart, Ind.-based trade journal that has p
These RV dealer honorees will be publicly recognized on stage Nov. 13 at an awards reception held during the Recreation Vehicle Dealers Association International Convention/Expo, the industry's leading RV dealer event co-hosted Nov. 11-15 by the U.S. Recreation Vehicle Dealers Association (RVDA) and RVDA of Canada at Caesars Palace Las Vegas Hotel & Casino.artnered for nine years now with BJ Thompson Associates to promote the unique, bar-raising, industry-wide Top 50 program.
"Just when you thought you'd seen it all, that the dealer applicants had pretty much played out their hands with regard to innovative, thought-provoking approaches to RV retailing, this year's applicants took things to a new level in terms of creative business practices, new age marketing, charitable outreach, tech training and bar-raising approaches to consumer care," said RVB Publisher Sherman Goldenberg.
Public relations executive BJ Thompson said the selection process was exceptionally intense this year as an esteemed panel of industry experts sequestered in a two-day, closed door session in early September at Elkhart's RV/MH Hall of Fame pored through scores of applications from U.S. and Canadian retailers nominated by recreational vehicle manufacturers.
"This year's panel of judges were about as intently engaged as we've ever seen in completing their evaluations and final selections," added Thompson. "There were some dynamic debates among the judges regarding the dealer finalists, and understandably so, when you consider the increased quality of the applications reflecting a new age of retail professionalism. We saw evidence of dealers not resting on their laurels of past performance but placing additional emphasis on service technician training and pressing for even higher levels of customer satisfaction.
"The judges clearly had difficulty getting the list down to just 50 selections and, unfortunately, some previous recipients didn't make it in," he noted. "Having said that, we do have a list of outstanding Top 50 dealers for 2019."
Singled out among the Top 50 RV dealers in North America were five Blue Ribbon honorees including Alpin Haus, Campers Inn RV, Curtis Trailers, Little Dealer Little Prices and Sicard RV as part of a Top 50 program sponsored by Airxcel, Brown & Brown, Cummins Power Generation, Dometic Corp., Freightliner Custom Chassis Corp., Northpoint Commercial Finance, NTP-STAG, Lippert Components Inc., Protective Asset Protection and Wells Fargo CDF.
Receiving special awards are British Columbia's Voyager RV Centre, which will be recognized in Vegas with the Gaylord Maxwell Innovation Award sponsored by Lippert Components Inc. for creative business practices. Minnesota's PleasureLand RV Center received the Arthur J. Decio Humanitarian Award sponsored by Wells Fargo CDF for excelling in charitable pursuits.
Here (in alphabetical order) are the 2019 RVB Top 50 awardees:
Affinity RV Service, Sales & Rentals, Prescott, Ariz.
Airstream Adventures Northwest, Gladstone, Ore.
All Valley RV Center, Acton, Calif.
Alpin Haus, Amsterdam, N.Y.
ArrKann Trailer & RV Centre, Edmonton, Alta.
Beaver Coach Sales & Servic, Bend, Ore.
Bent's RV, Metairie, La.
Bill Plemmons RV World, Rural Hall, N.C.
Bucars RV Centre, Balzac, Alta.
Bullyan RV, Duluth, Minn.
Burlington RV SuperStore, Sturtevant, Wisc.
Byerly RV Center, St. Louis, Mo.
Campers Inn RV, Jacksonville, Fla.
Colonial Airstream & RV, Lakewood, N.J.
Colton RV, North Tonawanda, N.Y.
Curtis Trailers, Portland, Ore.
Dixie RV SuperStores, Hammond, La.
Fraserway RV, Abbotsford, British Columbia
FunTown RV, Cleburne, Texas
Giant Recreation World, Winter Garden, Fla.
Giant RV, Montclair, Calif.
Gib's RV Superstore, Coos Bay, Ore.
Good Life RV, Webster City, Iowa
Greeneway RV Sales & Service, Wisconsin Rapids, Wisc.
Guaranty RV Super Centers, Junction City, Ore.
Hartville RV Center, Hartville, Ohio
Lazydays RV, Seffner, Fla.
Little Dealer Little Prices, Mesa, Ariz.
Manteca Trailer & Motorhome, Manteca, Calif.
Mike Thompson's RV Super Stores, Santa Fe Springs, Calif.
Modern Trailer Sales, Anderson, Ind.
Moix RV Supercenter, Conway, Ark.
Mount Comfort RV, Greenfield, Ind.
Open Roads Complete RV, White, Ga.
Palm RV & Marine, Fort Myers, Fla.
PleasureLand RV Center, St. Cloud, Minn.
Rangeland RV & Trailer Sales, Rockyview, Alta.
RCD RV Supercenter, Heath, Ohio
Rich & Sons RV Headquarters, Grand Island, Neb.
Richardson's RV Centers, Menifee, Calif.
Ron Hoover RV & Marine Centers, Rockport, Texas
Sicard RV, Smithville, Ontario
Steinbring Motorcoach, Garfield, Minn.
United RV Center, Ft. Worth, Texas
US Adventure RV, Davenport, Iowa
Veurink's RV Center, Grand Rapids, Mich.
Voyager RV Centre, Winfield, British Columbia
Walnut Ridge Family RV Sales, New Castle, Ind.
Wilkins RV, Bath, N.Y.
Woody's RV World, Calgary, Alberta
For more information, including the original article, click here.