Coos Bay, Oregon - Gib's RV Superstore in Coos Bay was again named a recipient of the 2019 RV Business Top 50 Dealer Award.
"This is the highest honor we can receive from the standpoint of industry recognition." Lisa Larkin, owner of Gib's RV proudly explains "Our amazing team has worked hard daily to learn more, get certified, and serve our customers and community at the highest standard. We couldn't be more proud!"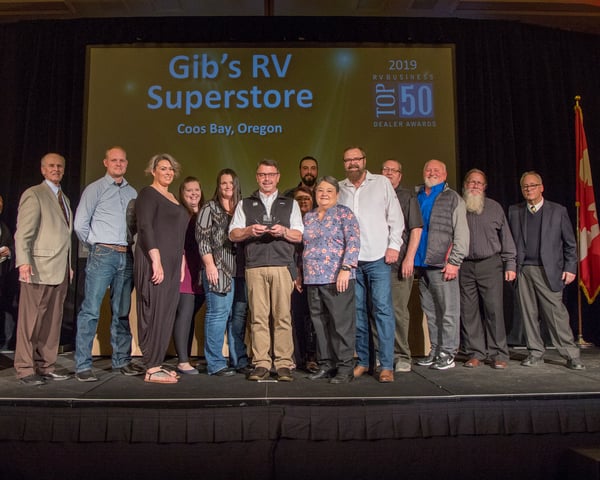 The award recognizes Gib's RV alongside the finest 50 dealers in the RV industry (US and Canada). To win this award, a dealer is nominated by an industry peer. A lengthy application process follows where questions are asked about all facets of the Dealer's business. These areas include sales and service process and philosophy, products and services offered, community involvement, charitable giving, a commitment to continuing education and much more.
"We knew last year that we needed to grow further to keep being nominated for this award. After the application process, we took the lengthy application and made a list of goals for the upcoming year." explains Lisa Larkin, "Of those goals, our highest priority was to achieve higher levels of customer satisfaction and get our technicians RVDA certified. Two of our technicians got registered and certified this year and we hope to have the rest of our team follow suit this upcoming year. Another goal was to find ways to be an even better part of our community. Our Sales Manager, Melissa Dennis has been an amazing force in helping us serve our community."
Gib's donated a new trailer to Kids' Hope Center at Bay Area Hospital earlier this summer. The raffle was able to raise over $30,000 to help children in our area that need the facilities' services. In addition to the raffle, they hosted a Backpack Giveaway in August giving away 150 backpacks to local school children. In May the dealership donated $50 for every RV sold to Operation Rebuild Hope for a total amount of $5000 going to help Veterans in the local area.
The selection process for this award is intense. For more information from RV Business, please read below:
RVBusiness and marketing communications agency BJ Thompson Associates asked RV manufacturers to nominate dealers across the United States and Canada who exemplify best practices and excellence in their field. Nominees were then invited to fill out comprehensive applications covering a wide array of subjects, including practices pertaining to consumers, staff, marketing, charitable endeavors and overall business procedures. An independent panel of industry experts then pored through scores of applications during an intensive two-day, closed-door session at the RV/MH Hall of Fame & Museum in Elkhart, Ind., known as the "RV capital of the world."
RVB Top 50 Administrator BJ Thompson said the selection process was exceptionally intense this year. "Our panel of judges was about as intently engaged as we've ever seen in completing their evaluations and final selections. There were some dynamic debates among the judges regarding the dealer finalists," Thompson reported. "We saw evidence of dealers not resting on their laurels of past performance but placing additional emphasis on service technician training and pressing for even higher levels of customer satisfaction."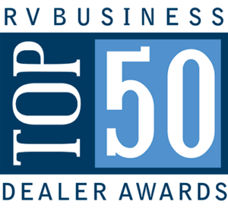 The RVB Top 50 Awards honorees will be publicly recognized on stage Nov. 13 at an all-industry reception held during the Recreation Vehicle Dealers Association International Convention/Expo at Caesars Palace Las Vegas Hotel & Casino.
"Just when you thought you'd seen it all, that the dealer applicants had pretty much played out their hands with regard to innovative, thought-provoking approaches to RV retailing, this year's applicants took things to a new level in terms of creative business practices, new-age marketing, charitable outreach, tech training and bar-raising approaches to consumer care," said RVBusiness Publisher Sherman Goldenberg. "We have an outstanding group for 2019.