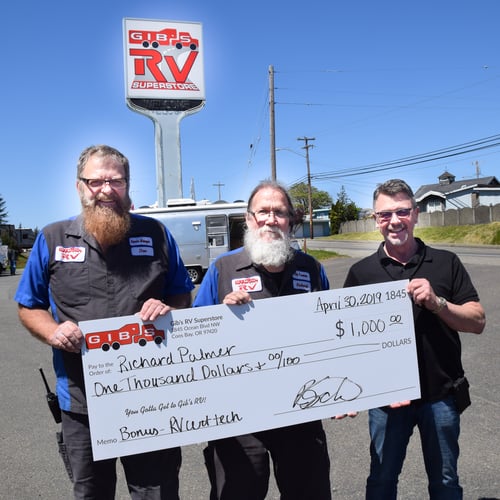 Fairfax, VA – The Recreation Vehicle Service Technician Certification Board is pleased to announce that Richard Palmer has successfully qualified as a Certified RV Technician. The industry certification lets consumers know that the service technician working on their RV has developed well-rounded RV repair, diagnostic, and component part replacement skills.
Each technician must complete the Certification testing program, a comprehensive two-step testing process. Certification standards were developed by a team of RV industry technical experts under the supervision of educational testing professionals from the Michigan-based National Occupational Competency Testing Institute (NOCTI). To retain certification additional education and training requirements must be met every five years.
"On behalf of the entire RV Industry, we congratulate Richard Palmer for their outstanding commitment to customer service and satisfaction," said Recreation Vehicle Dealers Association President Phil Ingrassia. "Palmer joins an elite group of technicians across the country who have successfully met the high standards of the RV industry's certification program."
Established in 1993, the RV service technician certification program is administered by Recreation Vehicle Dealers Association (RVDA) and Recreation Vehicle Industry Association (RVIA) under the auspices of the RV Service Technician Governing Board. The program tests, certifies and recertifies RV service technicians. For more information, go to www.rvtechnician.com
Picture caption: Richard Palmer (Center) was presented with a $1000 bonus check for achieving Certified RV Technician status. Presenting the check is Service Manager, Dan Faber (Left) and Owner, Bob Schultz (Right).